Frasi con il futuro in inglese - esempi con i tempi futuri
10 frasi con il futuro in inglese
futuro con to be going to
Where are you going next summer?
We're staying at home. I'm working all summer!
Dove andrai la prossima estate?
Restiamo a casa. Lavorerò tutta l'estate!

futuro col present progressivo
We're eating at the restaurant tonight. We've already booked the table.
Mangiamo al ristorante stasera. Abbiamo già prenotato il tavolo.

future simple

We will celebrate our anniversary by flying to New York.
Festeggeremo il nostro anniversario volando a New York.

future perfect progressive:
In July next year, you will have been studying for three years.
A luglio del prossimo anno studierai da tre anni.

future perfect:
By the time you arrive, we will have finished the meal and the party.
Quando arriverai, avremo finito il pasto e la festa.

future progressive:
The exibition will be opening in Rome for the next 3 weeks.
La mostra sarà inaugurata a Roma per le prossime 3 settimane.

I shall live badly if I do not write, and I shall write badly if I do not live.-Francoise Sagan
vivro' malamente se non scrivero' ,e scrivero' malamente se non vivro'
(notare che dopo if non si usa will)

When are you starting your new job?
Quando inizierai il tuo nuovo lavoro.

They can play tennis with you tomorrow. They're not working.
Potranno giocare a tennis con te domani. Non devono lavorare.

I will not be in the office tomorrow.
Non sarò in ufficio domani


frasi al futuro in inglese
An eye for an eye will make the whole world blind.
occhio per occhio fara' l'intero mondo cieco.
Mohandas Gandhi

Mock the devil, and he will flee from thee. deridi il diavolo e fuggira' da te --Bono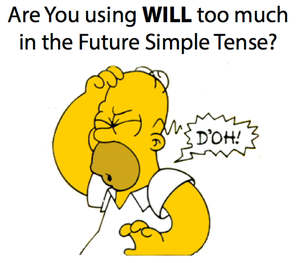 Logic is like the sword -- those who appeal to it, shall perish by it.--Samuel Butler
la logica e' la spada--coloro che si appelleranno ad essa, periranno tramite essa.






You can't build a reputation on what you are going to do.
non puoi costruire una reputazione su quello che hai intenzione di fare.
Henry Ford

If a man hasn't discovered something that he will die for, he isn't fit to live.
se un uomo non ha scoperto qualcosa per cui varra' la pena morire,non e' adatto a vivere
--Martin Luther King, Jr.

Ancient Rome declined because it had a Senate; now what's going to happen to us with both a Senate and a House?
l'antica roma e'declinata perche' aveva un senato; adesso sta' per succedere a noi perche' abbiamo un senato e una casa?
Will Rogers

I know what you're going to say!
'They are men, and men should be free.'
A free man is dangerous to himself
and everyone else.
Freedom should be left to those who
can put it to good use...-Dave Sim
socosa stai per dire! 'essi sono uomini ,
e gli uomini dovrebbero essere liberi.
un uomo libero e' pericoloso per se
stesso e chiunque altro. la liberta'
dovrebbe essere lasciata a coloro
che possono farne un buon uso'



frasi con will
esercizi sul futuro in inglese
differenza tra will e going to
esercizi will e going to
futuro in inglese
futuro con will
present continuous
esercizi con will


frasi futuro inglese
Be not afraid of life. Believe that life is worth living, and your belief will help you create the fact.-
William James
non avere paura della vita.credi che la vita e' degna di essere vissuta,e la tua fede ti aiutera' a creeare il fatto.

Whatever we plant in our subconscious mind and nourish with repetition and emotion will one day become a reality.
qualsiasi cosa seminiamo nel nostro subconsio e nutriamo con costanza ed emozioneun giorno diventera' realta'.
--Earl Nightengale

Real integrity is doing the right thing, knowing that nobody's going to know whether you did it or not.
la reale integrita' e' fare la cosa giusta , sapendo che nessuno sapra' se lo hai fatto o no.
Oprah Winfrey



altre frasi con il futuro in inglese ...
Women have more to offer this world than just a fallopian tube. Nothing is going to change until you quit looking at us as just sperm receptacles.
Barbara Hall
le donne hanno piu' da offrire a questo mondo delle sole tube di fallopio.niente cambiera' fino a che smetterete di guardarci solo come ricettacoli di sperma.

No, this trick won't work...How on earth are you ever going to explain in terms of chemistry and physics so important a biological phenomenon as first love?
albert einstein
no,questo trucco non funzionera'...come hai intenzione di spiegare in termini di chimica e fisica un fenomeno biologico cosi' importante come il primo amore?


frasi con il futuro in inglese


When the political columnists say 'Every thinking man' they mean themselves, and when candidates appeal to 'Every intelligent voter' they mean everybody who is going to vote for them.
Franklin P. Adams
quando i politici che curano una rubrica dice 'ogni uomo pensante' essi intendono se stessi,e quando i candidati si riferiscono a 'ogni elettore intelligente' essi intendono coloro che hanno intenzione di votarli.

There are people who, instead of listening to what is being said to them, are already listening to what they are going to say themselves. Albert Guinon
ci sono persone che ,invece di ascoltare a gli viene detto ,stanno gia' ascoltando quello che stanno per dire loro stessi.

You'll never know if you can win until you know you've tried your best... and then it doesn't matter if you've won or not because you will have improved, and that is winning for yourself.-Carolyn Meroniuk
non saprai mai se puoi vincere fino a quando saprai che hai fatto del tuo meglio...ed a quel punto non importa se avrai vinto oppure no perche' avrai migliorato,e questo per te e' vincere.


I was going to have cosmetic surgery until I noticed that the doctor's office was full of portraits by Picasso.
avevo intenzione di avere un intervento di chirurgia estetica fino a quando notai che l'ufficio del dottore era pieno di ritratti di picasso.
Rita Rudner
(notare che l'uso al passato di to be going to implica sempre che si aveva intenzione di fare qualcosa che poi non si e' fatto,o che stava per succedere qualcosa che poi non e' successo)



esempi di futuro in inglese
per predirre un evento futuro :
It will snow tomorrow (domani nevichera')

per esprimere una decisione spontanea
I'll pay for the dinner by bancomat (paghero' la cena col bancomt)

per esprimere buona volonta' :
I'll take your bag for you (portero' la busta al tuo posto)

nella forma negativa esprime la mancanza di buona volonta' :
I won't carry your bag for you (non portero' la busta al tuo posto)

I won't go out up to I've talked to the president!
(non usciro' fino a che avro' parlato col presidente)

nella forma interrogativa con I per fare una offerta :
will/shall I open the door? apro la porta?

con we nella forma interrogativa per fare una proposta :
shall we go out tonight? usciamo stanotte?

con I nella forma interrogativa per chiedere consiglio o istruzioni :
will/shall I turn on the machine? devo accendere la macchina?

con you per dare ordini :
you will turn on the machine.(accenderai la macchina)

con you per invitare qualcuno :
will you come to the cinema with me?
vieni al cinema con me?
Will you marry me? vuoi sposarmi?